Life, Lessons, Promises and Birds
Posted by Karen Meeker on January 4, 2017
Life lessons often come through hard knocks or from sterling examples. But by birds? Really? Well these birds proved to be masterful teachers.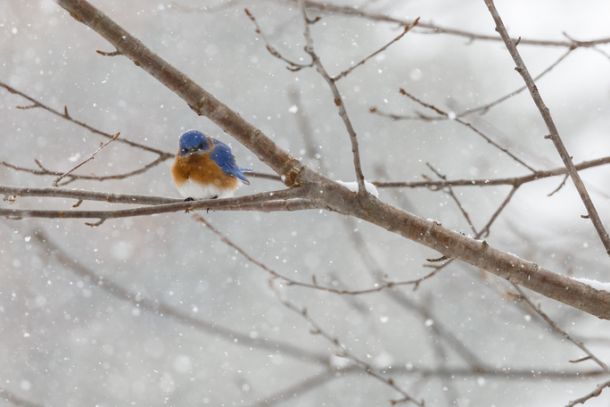 These teachers—and their lessons—were unexpected, but what I learned will last a lifetime.
1. Things can change with the wind. You can deal with it.
I vaguely remember when we planted that sapling Bradford pear in our front yard. Each year afterward, it grew a little taller and fuller and welcomed spring with more flowers than the year before. Gradually it became a kind of bird sanctuary. When we would walk out to the driveway, it was alive with chirping and busyness deep within its branches.
I loved that tree. It graced the whole neighborhood.
One spring brought with it winds and rains, light shows and sound effects. The morning after a serious storm, I looked out the front window, only to find my lovely mature tree split down the middle, one half lying precariously near our vehicle parked in the driveway. There was no way to save it, so I made the fateful call to a tree service.
It was amazing what short work they made of my tree that took years to grow. Chainsaws glided through branches like a hot knife through butter, and waiting hands fed them into a monster grinder, reducing them to chips. In mere minutes nothing was left but a pile of sawdust.
As I stood gazing at that forlorn scene, a lone bird swooped in, landed on the pile of chips, and with a quizzical look, uttered one little chirp as if to say, "Wh-a-t happened?!" Then it flew away.
Lesson: When you find yourself assailed by the destructive winds of life, just remember there is one sure safe place.
Psalm 27:5: "For in the time of trouble He shall hide me in His pavilion; in the secret place of His tabernacle He shall hide me; He shall set me high upon a rock."
2. Sometimes you just have to move over and wait.
There's something different about that bird house, I thought, as I looked at the small wooden structure my husband had built and affixed to a post. Each spring I watched sparrows build or refurbish a nest inside the safety of its walls—flitting back and forth with beaks full of grasses, strings and whatever else met their building code.
As I peered more closely, I noticed fresh wood showing around the entry hole. Strange, I thought. During the following days I watched the ring of fresh wood and the hole grow asymmetrically larger until I finally caught the culprit in action. A squirrel had decided to take over and move into this cozy little space, totally ignoring the protests of the rightful tenants.
It became obvious that the squirrel was nesting, and at some point gave birth to a litter. As I checked the squatter's digs throughout the coming weeks, I noted the sparrows doing the same thing, even brazen enough to check out the interior from time to time. Then one day there was no more squirrel activity; they were gone—vanished—into the surrounding trees. And the sparrows? They were back at work, readying the place as their own nursery, flitting back and forth as though nothing had happened.
Lesson: Sometimes life seems quite unfair, and you just have to bide your time and trust that things will get better.
Psalm 37:7-8: "Rest in the LORD, and wait patiently for Him; do not fret because of him who prospers in his way, because of the man who brings wicked schemes to pass. Cease from anger, and forsake wrath; do not fret—it only causes harm."
3. Family comes first.
It seemed like an ordinary drive on the interstate, but for some reason the traffic ahead of us was slowing and cautiously merging into a different lane. Even a semi was purposely keeping the traffic back, its engine just barely idling. As we approached, my husband pulled alongside the stopped truck, and we could see the cause.
It was a mother duck and six or seven tiny ducklings trying to get across the highway. But there was a huge problem. On one side of the highway lay a grassy slope, but along the other, concrete barriers served to separate the opposing lanes.
She must have come from the safety of open fields right into the path of heavy traffic only to face the impenetrable obstacles. She went up and down the barrier, followed by her babies all in a row. Finding no way through, she started back toward the open shoulder. As soon as she passed in front of us, my husband and the semi inched forward and continued on down the road.
We talked about the surreal scene for the rest of the trip. Did the mama make it back across with her family intact? Did the approaching traffic see her dilemma and provide a shield for her as that semi had? Did someone attempt to shoo her to safety?
It was just too dreadful to think that the whole family met its demise that day. So I chose to believe that the courageous mother and those trusting little downy ducklings made it back to safety just fine and lived to see another day.
Lesson: Parents will do anything to protect their little ones from harm. This is especially true of God our Father—if we will only follow Him.
Luke 13:34: "O Jerusalem, Jerusalem, the one who kills the prophets and stones those who are sent to her! How often I wanted to gather your children together, as a hen gathers her brood under her wings, but you were not willing!"
Psalm 36:7: "How precious is Your lovingkindness, O God! Therefore the children of men put their trust under the shadow of Your wings."
4. Patiently waiting? Don't blink.
Of all the birds on our lovely planet, the blue heron must be near the top of the list for patience. While on vacation at a lake one summer, I happened to notice a large bird standing on the edge of a dock, peering into the clear water. It stood stock still, never moving. I watched with fascination.
Minutes ticked by. I shifted my position, and in slow motion the fisher-bird, too, shifted slightly, lifting one long spindly leg, and took a silent step.
Then it watched and waited.
I watched and waited.
Nothing.
My eyes were momentarily drawn to a passing boat and when I looked back, there stood the heron, head dripping with water, a flailing fish in its beak.
In a blink of my eye its patience had been rewarded, and I missed it!
Lesson: The ultimate reward will come to the one who is ever watchful and patiently waits.
Matthew 24:42-44: "Watch therefore, for you do not know what hour your Lord is coming. But know this, that if the master of the house had known what hour the thief would come, he would have watched and not allowed his house to be broken into. Therefore you also be ready, for the Son of Man is coming at an hour you do not expect."
Revelation 22:12: "And behold, I am coming quickly; and My reward is with Me, to give to every one according to his work."
For more lessons from birds, read "Parenting Lessons From Birds."