God's Soldiers
Posted by Joshua N. Travers on September 14, 2012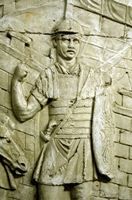 The brave warrior steps forward armed for war. He knows that he might die. He knows that the fight is worth the risk. He proudly rushes into the battle, striving for the victory.
You've probably seen movies like this before: 300, Attila, Troy and many others. Many of us as younger kids imagined ourselves as one of the gladiators or warriors who fought valiantly and emerged victorious from the fray.
However, not only is this impossible in our age of guns, explosives and modern warfare; but it is wrong. Human violence seldom solves anything, and it never solves a problem perfectly. Under no circumstances should we wish to kill another human being.
Yet in a way we are like those warriors of old, wielding a sword and fighting a dangerous enemy. …
The foe
Mankind has many natural enemies that threaten our lives, such as wild animals, deadly diseases, violent storms and other dangers. Some of them are easy to counteract. Others are more difficult; and some, such as hurricanes, are almost impossible to overcome.
In addition, mankind also has a supernatural enemy. Due to his nature, we can't see him or sense him in any physical way; but the Bible gives us a glimpse of what he is, how he works and what he wants.
This enemy is mentioned by name in 1 Chronicles 21:1: "Now Satan stood up against Israel, and moved David to number Israel" (emphasis added).
Satan the devil, also known as Lucifer, the accuser of our brethren and the prince of the power of the air (Isaiah 14:12; Revelation 12:10; Ephesians 2:2), is our enemy.
Not only is he our enemy, but he is the most powerful enemy that anyone can imagine. All the military might of Sparta, Rome, Persia and every other empire known to man would never stand against a being with the power to deceive the whole world (Revelation 12:9).
Thankfully, we don't have to fight this awesome being alone. God is more than willing to help us face this threat. Not only will God give us help in facing Satan, but He will also give us the weapons necessary to fight him.
The weapons of spiritual war
In Ephesians 6, the apostle Paul tells us what the weapons of our war are.
"Put on the whole armor of God, that you may be able to stand against the wiles of the devil. For we do not wrestle against flesh and blood, but against principalities, against powers, against the rulers of the darkness of this age, against spiritual hosts of wickedness in the heavenly places. Therefore take up the whole armor of God, that you may be able to withstand in the evil day, and having done all, to stand.
"Stand therefore, having girded your waist with truth, having put on the breastplate of righteousness, and having shod your feet with the preparation of the gospel of peace; above all, taking the shield of faith with which you will be able to quench all the fiery darts of the wicked one.
"And take the helmet of salvation, and the sword of the Spirit, which is the word of God; praying always with all prayer and supplication in the Spirit, being watchful to this end with all perseverance and supplication for all the saints" (Ephesian 6:11-18).
Paul describes our fight and weapons perfectly in this passage (for a more detailed description of the armor of God, read the blog post "Put on the Armor of God"). We must make sure that we seek and take care of these devices of war as best we can so we can be sure to stand when the battle comes to us.
Paul also gives us a hint of what war we will be fighting. The only offensive weapon listed in Ephesians 6 is "the sword of the Spirit, which is the word of God." There are no spears of honesty or arrows of peacefulness. The only weapon here is the sword of the Spirit. We are not fighting an offensive war, but a defensive war. Satan is too powerful an enemy to go up against intentionally. Satan will come to us, and we must be on the defensive when he comes or we will fall.
The victory
In a war, victory is seldom a sure thing. Even when victory is sure, complete and total victory is not. In the past, wars were fought where there was complete victory—such as in World War II. In today's world, however, there are few certain victories in war. Wars like Korea, Iraq and Afghanistan leave you wondering who really won and who really lost.
God does not fight wars that way, and neither should we. In our spiritual war, there can only be one outcome and that outcome will be complete and total victory!
God reveals the end of war, spiritual and physical, in the book of Revelation, where He reveals many highlights that will be crossed on the way to peace:
The return of Christ and the final battle of all mankind (Revelation 19:11-21).
Satan's capture and imprisonment (Revelation 20:1-3).
The transformation of the saints (Revelation 20:4-6).
A new heaven and new earth under the rule of the Kingdom of God (Revelation 21).
In the end, God will emerge victorious; and we—His soldiers—will no longer fight in any wars. The battle will be over and peace will come forever. That is an end result worth fighting for. Let us all put on the armor of God and do our best to prepare to see that great day!
For more about our Protector and our enemy, see "God vs. Satan."
Joshua Travers is a freshman college student who attends the Athens, Ohio, congregation of the Church of God, a Worldwide Association.