The Cancer Ward
Posted by Bruce Gore on May 29, 2018
A cancer ward is one of the many places you can see sadness and futility on the faces of humankind. It's a reminder of how much this world needs the only real and lasting solution—the return of Jesus Christ.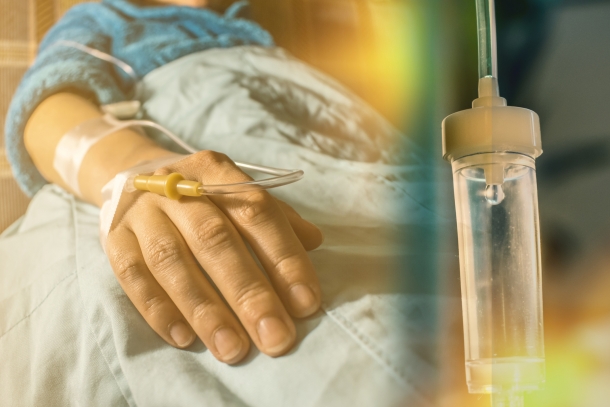 Three months ago, my wife began chemo treatments for lymphoma.
As we waited for blood work in the waiting room, another patient was called to go in for his weekly blood work. He was a few years older than me. I watched as he struggled to get out of his chair. He rocked back and forth a few times, finally succeeding in standing, and slowly, very slowly, made his way over to the door.
A while later, my wife and I were notified we could go on into the room where the chemo is administered. This room is fairly large, divided into four sections with a total of 25 to 30 large padded chairs. Once you check in, they take your name and order your chemo from the lab to be brought up from the pharmacy.
The powerful and expensive chemo drug is administered by drip method for the next several hours through a port or a needle in one's arm.
Stories of suffering
As I sat with my wife, others came and went.
Another older man sitting toward the front apparently had been there so often he was well-known by the nurses, who called him by name. I overheard them discussing how he must leave there shortly to rush somewhere else for a blood transfusion. Others, from young adults to the elderly, occupied chairs across the room, silently waiting for their dosage to be finished.
Last month during my wife's treatment, a young girl, perhaps in her late 20s, sat across from her talking on her cell phone. She was discussing the question of who was going to take her children—three small ones—for she had only a few weeks to live. As she chatted, she spoke of her relief that her eviction from her home had been postponed.
The cancer center is a sad place, and it is only one of thousands of such treatment centers across our land trying to help untold hundreds of thousands with just this one horrible plague. Cancer is the second-leading cause of death in the United States. The American Cancer Society estimates that in 2018 over 1,700,000 new cases of cancer will be diagnosed in the U.S.
How much we need the Kingdom of God
I share this simply to point out how much this world needs God's Kingdom. That is the only thing that is going to bring a solution to such suffering. For it seems that even when the medical profession is able to provide some relief from one horrible disease, another rises to take its place—whether it's the black death, scarlet or yellow fever, polio, heart disease, cancer, HIV or one of the new superbugs.
Humanity, for the most part, has rejected God, the Creator, and in doing so has removed itself from the protection and perfect health that existed in the Garden of Eden. But His written Word, the Bible, states that He is going to return to this earth to teach man to live in such a way that will eradicate most of the disease and suffering we have today.
Jesus Christ's return will bring a time of justice and peace: "He will judge Your people with righteousness, and Your poor with justice. The mountains will bring peace to the people, and the little hills, by righteousness" (Psalm 72:2-3).
Together, Jesus Christ's first and second comings make possible the release of this world from its captivity to sin and Satan.
"Inasmuch then as the children have partaken of flesh and blood, He Himself likewise shared in the same, that through death He might destroy him who had the power of death, that is, the devil, and release those who through fear of death were all their lifetime subject to bondage" (Hebrews 2:14-15).
When God created this beautiful earth and the first two human beings, He more than once stated, "It was good" (Genesis 1:10, 12, 21, 25, 31). But this corrupted world is no longer good! Humanity, because of bad choices, has brought upon itself war, disease and toxic relationships, resulting in terrible pain and suffering.
Such experiences will bring us to a willingness to listen to a better option. It is found in God's instruction book, the Bible. "Those who sow in tears shall reap in joy" (Psalm 126:5).
"I will bring it health and healing"
When Christ returns, He will set up His righteous government in Jerusalem. From there, His kindness and healing will ultimately reach out to all humanity. "Behold, I will bring it health and healing; I will heal them and reveal to them the abundance of peace and truth" (Jeremiah 33:6).
Consider these beautiful glimpses of the future God has planned:
"Therefore the LORD will wait, that He may be gracious to you; and therefore He will be exalted, that He may have mercy on you. For the LORD is a God of justice; blessed are all those who wait for Him. For the people shall dwell in Zion at Jerusalem; you shall weep no more. He will be very gracious to you at the sound of your cry; when He hears it, He will answer you" (Isaiah 30:18-19).
"Behold, the Lord GOD shall come with a strong hand, and His arm shall rule for Him; behold, His reward is with Him, and His work before Him. He will feed His flock like a shepherd; He will gather the lambs with His arm, and carry them in His bosom, and gently lead those who are with young" (Isaiah 40:10-11).
"In His days the righteous shall flourish, and abundance of peace, until the moon is no more" (Psalm 72:7).
Then, after all this, comes a new heaven and a new earth:
"And I heard a loud voice from heaven saying, 'Behold, the tabernacle of God is with men, and He will dwell with them, and they shall be His people. God Himself will be with them and be their God. And God will wipe away every tear from their eyes; there shall be no more death, nor sorrow, nor crying. There shall be no more pain, for the former things have passed away'" (Revelation 21:3-4).
Are you praying fervently for God's Kingdom? Look around; there are a lot of good reasons to seek it daily!
To learn more about the Kingdom, read "What is the Kingdom of God?"