Why Did God Allow Ben Breedlove to Die so Young?
Posted by Tim Groves on January 5, 2012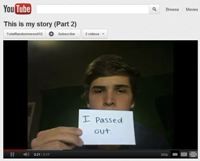 Just days before he died, 18-year-old Ben Breedlove made a silent YouTube video using note cards to convey his message. Now millions have viewed that video where Ben notes his belief in God, but also the unfairness of life. So why did God allow someone who believes in Him to die so young?
Ben Breedlove died on Dec. 25 of a cardiac arrest. From a very young age he was diagnosed with hypertrophic cardiomyopathy (HCM), a heart defect where the heart muscle becomes abnormally thick, making it difficult to pump blood.
Early on, doctors told his parents that Ben would probably not live past his early teens. And in his video, Ben describes his fears.
On one card he wrote, "It [HCM] has scared me a lot, and I hate that feeling." Ben also wrote about how three times he had "cheated" death, the first time at the age of 4.
From there Ben wrote about the unfairness of life and his disappointment at missing out on many things. "I was never allowed to play all the sports that my friends did. … I really just hoped that I could be the same as everyone else."
Why is life unfair?
The unfairness of life has perplexed mankind for thousands of years. And when things like this happen to people like Ben, many question how a God of love could allow this. (For more on this, see "Why Does God Allow Evil and Suffering?")
Yet, paradoxically, it is because of God's love that He does allow it.
To understand the seeming unfairness of life, we have to go back to our first parents, Adam and Eve. When God first created them, He taught them His way of life. The way to health and happiness was to follow His directions, symbolized by the tree of life. But God also showed them that doing what they thought was right would bring a mixture of good and bad, and that was pictured by the tree of the knowledge of good and evil.
God has given all humans free moral agency. He wants us to develop His righteous character by making right choices. Adam and Eve chose (with the devil's prodding) to follow their own reasoning and partook of the tree of the knowledge of good and evil. In essence, they told God they would decide for themselves what is right and wrong. They didn't need God. And even though God knew they and their descendants would regret that choice, as a loving parent He realized mankind would only really learn the hard way.
God knew that human history would be filled with tragedies since mankind has chosen to push Him out of the picture and to listen to Satan's influence instead.
Ben's tragedy was one of those unfortunate tragedies. It was not Ben's fault that human mistreatment of our physical bodies over thousands of years has led to so many health conditions today (consider the example in John 9:1-3).
But that doesn't mean it's all over for Ben.
"Do you believe in angels and God? I do."
The last two flash cards Ben wrote were about his belief in God. So if Ben was not rejecting God, why did God not heal him?
Again, we go back to our first parents' choice. When they rejected God, He gave them and their descendants an allotted time to live the way they wanted. But God still has a wonderful future planned for all of mankind. So during this allotted time for man to live life separated from God, He normally only intervenes as it affects His plan.
Even though Ben was born with an unfortunate heart defect, God still cares for him—and for each of us. "For I know the thoughts that I think toward you, says the LORD, thoughts of peace and not of evil, to give you a future and a hope" (Jeremiah 29:11; see also 1 Timothy 2:4 where God expresses His love for all mankind).
Ben will be brought back to life in God's time. Right now, God has allowed Ben to wait in his grave until that time comes. And the Bible clearly says it will come (John 5:28; Revelation 20:12).
When Ben comes back to life, God will give him a new heart and a better understanding of God (Ezekiel 36:26-28). God's loving plan gives us incredible hope. As the apostle Paul said, "Therefore we do not lose heart. … For our light affliction, which is but for a moment, is working for us a far more exceeding and eternal weight of glory" (2 Corinthians 4:16-17).
Yes, when Ben finds out what God has planned for him and all of mankind, he'll never think of God ever being unfair (Romans 8:18). Because then, Ben won't just believe in God, he will really know God and have the chance to receive the fruit from the tree of life—eternal life!
Tim Groves is a member of the Church of God, a Worldwide Association. He and his wife, Teresa, along with their four children, live in South Carolina.
For more about why God allows bad things to happen and about what happens after death, see: