Moving Day: An Unforgettable Lesson in Quality
Posted by Nancy Diraison on February 13, 2012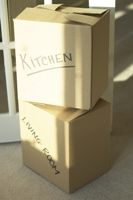 It was moving day, when we needed everything to go right. What I learned that day taught me more than just what not to buy. It was a reminder to always use quality materials in my spiritual workmanship.
It was moving day. Again. This time we were finally escaping a situation that had forced us to live in a half-finished cabin in Montana, on a property without water, for three and a half years. I would not miss the exhausting, daily hauling of that vital commodity from long distances that had made me feel like a third-world resident in a first-world country.
A difficult day
Moving is never easy. This particular situation had its own complications. Since there was no fixed lighting, it meant that once the last lamp was packed, we needed to be out of there by dusk. And there were only a few jugs of water left to assist with cleaning.
It didn't help that, when halfway loaded, the 27-foot U-Haul van sunk a wheel deep into a hole that collapsed over a rotted tree root. I still don't remember who helped us pull it out, but we lost a lot of time. I was also busy trying to keep our two very young children helpful, out of trouble and hopefully clean.
An unforgettable lesson about quality
As the loading neared its end, one of the last things to go was our wood-burning stove, the only source of heat in the "house." It had been cooling all day, and most of the ashes had been shoveled out, but before the heavy fire bricks could be taken out, the rest of the cinders had to be vacuumed.
Then I continued cleaning and packing our makeshift kitchen/sitting room area, which, since the whole first floor was no bigger than a two-car garage, was equal to about half of that.
I was still vacuuming, with my back turned to my children, when it happened.
Suddenly the whole space filled with a fine cloud of ash. I had barely heard the gentle "pop" sound from inside the vacuum canister. But it was like I had my own Mount St. Helens exploding all around me.
The flawed vacuum cleaner bag had exploded, expelling all the ash from the woodstove, as well as the rest of the dust I'd been picking up all day, through the vacuum's exhaust vent; and it was spewing vigorously all over the place, kids and me included.
Sometimes it seems to take forever to find an "off" switch. And it was getting dark.
That evening, instead of heading out of town as we'd planned, we just parked at the nearest motel and cleaned up. We were a comic mess.
Choosing materials carefully
Where we lived, shopping was very limited; and while my vacuum was a top-brand model, the only vacuum cleaner bags available for it were a nondescript, unlabeled brand available at a mom-and-pop appliance store. The good bags were at least 90 miles away in Idaho or 100 miles away in Kalispell. So I had what I could get, but I got what I paid for. I should have stocked up elsewhere and not let myself run out before the move.
The Bible tells us in 1 Corinthians 3:12, "If anyone builds on this foundation with gold, silver, precious stones, wood, hay, straw, each one's work will become clear." It will become clear because each one's work will be tested by fire. If the work endures, he'll receive a reward, but if it is burned, he will suffer loss (though, verse 15 says, he'll be saved, "yet so as through fire").
I hope that after reading this, some will be moved to avoid nondescript, unlabeled vacuum cleaner bags, as I have done since that day!
But more importantly, I'm reminded by this overall principle to be very careful how I build my spiritual house. I must be careful how I build my character, how I spend my time, what I allow my mind to dwell on and my eyes to behold, and what words I allow myself to speak. I must work with quality materials, lest I rupture when times of pressure build up!

Nancy Diraison is an East Texas member of the Church of God, a Worldwide Association. Writing everything from music to blogs is her favorite occupation!
Related reading: