We Have Been to the Mountaintop: Now What?
Posted by John Fox on November 10, 2016
We were given a vision of the Kingdom at the Feast. As we return to our daily lives, what can we do to keep the vision strong in our minds and hearts?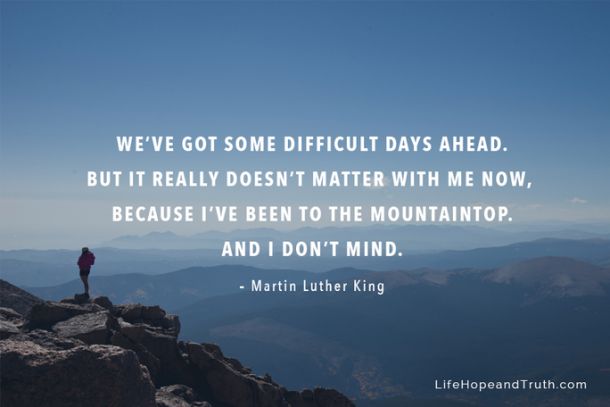 Many decades ago, an exhausted preacher was speaking about the societal problems of his day. Using allusions from the biblical prophets, he was trying to motivate his audience regarding mankind's need to change and to see the future.
Here are some of his remarks:
"If I were standing at the beginning of time … and the Almighty said to me, '… Which age would you like to live in?' …
"Strangely enough, I would turn to the Almighty, and say, 'If you allow me to live just a few years in the second half of the 20th century, I will be happy.'
"Now that's a strange statement to make, because the world is all messed up. The nation is sick. Trouble is in the land; confusion all around. … But I know, somehow, that only when it is dark enough can you see the stars."
The minister then closed with this powerful allusion:
"We've got some difficult days ahead. But it really doesn't matter with me now, because I've been to the mountaintop. And I don't mind.
"Like anybody, I would like to live a long life. Longevity has its place. But I'm not concerned about that now. I just want to do God's will. And He's allowed me to go up to the mountain. And I've looked over. And I've seen the Promised Land. I may not get there with you. But I want you to know tonight, that we, as a people, will get to the Promised Land! And so I'm happy, tonight. I'm not worried about anything. I'm not fearing any man! Mine eyes have seen the glory of the coming of the Lord!"
Those words were spoken by Dr. Martin Luther King Jr. on April 3, 1968—the night before his murder. What can you and I glean from these words?
I believe a nugget of truth from these words can help us stay focused as we reenter this world after spending eight days at God's Feast of Tabernacles.
God's joyous fall feasts provide us a proverbial "mountaintop" view of God's Kingdom. We get a vision of God's Kingdom as we hear inspiring messages, listen to uplifting music and live among brethren in an (often) millennial surrounding. We celebrate in advance that future time when mankind will go up to "the mountain of the LORD" (Isaiah 2:3).
Coming down from the mountaintop
Dr. King dedicated his life to the noble cause of civil rights in the U.S. He was seeking a physical promised land, and he framed that quest by painting a clear vision of the equitable nation he saw from the mountaintop.
What about you and me? Do we have the same clear vision of God's Kingdom?
The Feast is our mountaintop—and we have spent eight days viewing (from various angles) the world under God's Kingdom.
We are now entering a spiritual winter, and it is easy to become discouraged and distracted. How do we stay focused on the vision from the mountaintop?
Assemble. Most of us have the blessing of being able to assemble together weekly for Sabbath services and to hear about the "mountaintop." Hebrews 10:25 tells us not to forsake the "assembling of ourselves together … and so much the more as you see the Day approaching." Even if we are isolated and can't attend services every week, we can be spiritually fed through webcasts and can talk to brethren on the phone.

Listen. What we learn at the Feast and weekly services can change our lives. Every week, we should go home from services dedicated to being better people than we were before. Jesus told His disciples in Luke 9:44 to let His words "sink down into your ears" (Luke 9:44). This is still what we need to do with His words almost 2,000 years later!

Talk. We should be fellowshipping regularly with our brethren. Of course we will talk about our physical lives, and that is okay. But we should see our lives in context of climbing the mountain toward God's Kingdom. The physical is not our focus; the Kingdom should be (Matthew 6:33). Malachi 3:16 reminds us that God listens to us when we talk about our common faith.
Dr. Martin Luther King Jr. gave his life climbing a metaphorical mountain toward civil rights. You and I have been called to climb the spiritual mountain toward God's Kingdom. We were given a glimpse, a limited vision, of the true Promised Land at the Feast. Let's keep that vision strong!