President's Trip to Asia, Part 4: Sri Lanka, June 24-25
By Jim Franks
Our final stop on this trip to Asia is the tear-shaped island nation of Sri Lanka. This country has a special place in the history of the Worldwide Church of God. During the 1980s, the Worldwide Church of God supported numerous humanitarian projects under the direction of an independent charity known as the Ambassador International Cultural Foundation, or AICF. One of the longest-standing projects was located in this small country. It was called the Waterfield Institute. David Baker, currently the COGWA regional director for Asia, managed this project for five years (1985-1990), actually living at the school during that time. Each year of the project, approximately 70 students, aged 17-21 were taught English, typing skills, shorthand, and an introduction to computers by Ambassador College students who were assigned from the U.S.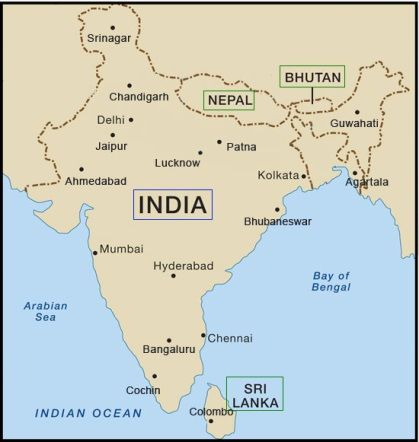 Sri Lanka itself has been a troubled country in the recent past. Even though independence from Britain came in 1948, Sri Lanka continued as a British dominion until 1972. It was in 1972 that Sri Lanka became a republic. A bloody civil war began in 1983 and continued off and on for the next 25 years. Finally, in 2009, peace came to Sri Lanka when the government declared total victory over the remaining rebels and seized control of all contested territory.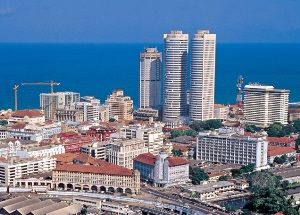 Today Sri Lanka is considered a developing country. There is still considerable poverty, but there are also signs of improvement. Numerous countries, most notably China, have invested billions of dollars in Sri Lanka. In the capital city of Colombo you will see a modern cityscape with luxury hotels and office buildings. Construction cranes are everywhere, with new hotels and modern resorts being built. One concern is whether there will be enough business for the several luxury hotels currently being built and due to open within the next three years.
The Church in Sri Lanka dates back to the 1950s and '60s, and reached more than 100 in attendance in 1990. Today, after the various divisions, beginning with the Worldwide Church of God in the 1990s, there are several small congregations representing four or five different groups. The Church of God, a Worldwide Association, in Sri Lanka primarily consists of one extended family. Rodney Van Heer is a deacon in the congregation and handles the setup and conducting of Sabbath services for the group each week. Rodney and his wife, Jean, are performers. They play and sing at the historical Mount Lavinia Hotel two times a week—Saturday night and Sunday afternoon.
Rodney and Jean, along with their granddaughter, her husband and their two children, and one additional member make up the local congregation. When we met with them on the Sabbath of June 25, there was an additional guest, Jean's sister visiting from Argentina, so there were 11 of us.
This trip has been quite informative. Once we left the Philippines after the Day of Pentecost, most of the groups have been quite small, ranging from the two Ali sisters in Hyderabad to the 15 or so that met with us in Moradabad. The other Bible study groups have been somewhere in between. But whether there were two people or 15 people, the result was the same—a warm and encouraging visit. The brethren enjoy getting together with others, especially on the Sabbath. I pray every day that God will call new people, especially in some of these isolated areas of the world. How exciting it would be for these groups to have just one new person! And we see that beginning to happen in some regions of the world. Mr. Baker is beginning to receive requests from some of these Asian countries, and that is a relatively new experience. After almost 20 years of visiting in this region, that has not been the result. I pray that a new trend has begun.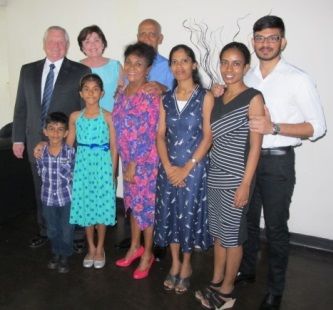 Let me introduce you to our congregation in Sir Lanka. Standing in the back are Jim and Sharron Franks, Rodney Van Heer and Iraj Toussaint. In front, from the left, are Nathan Toussaint, Esther Toussaint, Jean Van Heer, Dayanandani, and Shan Toussaint. Dave Baker, the one taking the picture, brought our group's number to 10 (not counting Jean's sister who was only visiting).
We met for Sabbath services at the Van Heer home at 11 a.m. on June 25. After a service that consisted of songs, opening prayer, announcements, sermon, concluding song and closing prayer, we fellowshipped for a while before eating a traditional Sri Lankan lunch. It was very good.
The Van Heers came into the Church in 1997 while on a visit to Jean's son in San Diego. Her son had been a member of the Worldwide Church of God, but joined Global in 1993 and was living and working in San Diego in 1997. Other family members had also been part of the Worldwide Church of God back in the 1980s. The Van Heers and members of their extended family have remained faithful over the past almost 20 years, having been part of more than one COG organization. But they have a home now with COGWA, and we were happy to visit with them.
After lunch, we fellowshipped for a few more hours before it was time for Sharron and me to depart for the hotel and then to the airport. In order to get home before Monday morning, we needed to fly out on Saturday night. Our flight from Sri Lanka to Abu Dhabi left at 9:25 p.m. After four hours, we arrived safely in Abu Dhabi, where we had to undergo another security screening before we could board our next flight to Paris. Originally, I thought we would have some time to look around the Abu Dhabi airport, but by the time we made it through security, it was time to board. After six hours we landed at Charles De Gaulle airport outside of Paris. Again we had to go through a rigorous security screening! Finally about 12:30 p.m. Paris time we boarded our plane for Dallas. And after 20 hours of flying and another 12 hours in airports, we finally arrived home late Sunday afternoon, June 26.
I wish I could summarize this trip in a few words, but that would be impossible. There is one section of Scripture that comes to mind when I look back on the past 17 days. It is found in Hebrews 10:23-25: "Let us hold fast the confession of our hope without wavering, for He who promised is faithful. And let us consider one another in order to stir up love and good works, not forsaking the assembling of ourselves together, as is the manner of some, but exhorting one another, and so much the more as we see the Day approaching."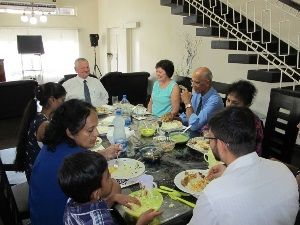 On this trip we saw faithful brethren, and we did our best to encourage them. Even though there are only a few in several of these locations, they gather each Sabbath to listen to God's Word being taught.
We flew around the world, leaving Dallas on June 8 and flying west to the Philippines. From there, we continued west to Singapore, then to India, crisscrossing this country via planes and automobiles, then to Sri Lanka, to Abu Dhabi, to Paris and then back to Dallas. The traveling got old, and a different hotel every two or three nights was no fun. But what a joy it was meeting all the brethren! They are a diverse group, but with a common spirit and commitment. We found each group to be excited to meet with us and with a heart willing to be taught.
I hope you have enjoyed reading my reports and that I have given you a few more names to add to your prayer list. Each and every one needs your prayers as he faces the unique challenges of living in a non-Christian part of the world while keeping the Sabbath and the holy days. We have committed resources to helping them, and we hope one day to have pastors and congregations in each of these areas. But for now, David Baker does his best to care for the spiritual needs of these groups. He travels three to four times per year to see them and counsel with them. He also sets up the Feast of Tabernacles in locations where they can all attend (if possible). This year we will have our largest Feast in Asia in a number of years. The Feast in Sri Lanka will have around 70 people in attendance. The thought of meeting with so many people, including approximately 30 people from the U.S., has sent a wave of excitement throughout COGWA in Asia.
Well, that will do it for my reports on this trip to Asia. I plan to also provide a video report on In Accord in the weeks ahead. I have hundreds of pictures that I want to share with everyone. Thank you for your support and help as we do our best to serve the people of God wherever they may live.