3 More Things I Learned as a Camp Counselor
Posted by John Columbo on November 3, 2016
Serving at Camp Arrowhead taught me many lessons. After writing my first post on things I learned, I thought of three more I'd like to share.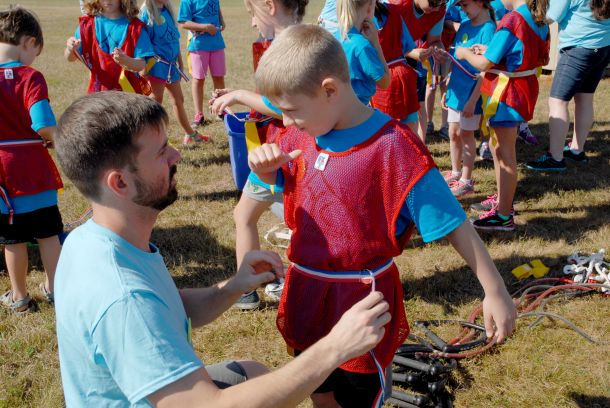 Other than the Feast of Tabernacles, summer camp is probably the most exciting event of the year for children and teens in God's Church. Camp provides us valuable opportunities to be examples and teach our youth. Although physically exhausting, attending camp is spiritually refreshing to the volunteer. Volunteering gives us some great opportunities to draw closer to God. When we volunteer, we both lead and learn.
In my previous blog post I addressed three lessons that I learned as camp counselor. Although they were a bit lighthearted, I take any lesson quite seriously. After giving it more thought, I realized there were still more lessons that I didn't have space for in that post. So here are three more lessons I learned as a camp counselor.
1. Never underestimate the value of an assistant counselor.
At Camp Arrowhead, each dorm was assigned three counselors. I was blessed with the opportunity to work with Andrew Travers and Jordan Richey. Whether it was those mid-activity bathroom breaks or diffusing an emotional situation, an extra set of eyes and ears and some personal counsel helped and made activities run efficiently.
Because of how exhausting camp is, their presence and leadership gave me the opportunity to take occasional breaks. And it was needed. At times, when I was unsure of a procedure or the schedule, I relied on the experience of my assistants.
Proverbs 15:22 states, "Without counsel, plans go awry, but in the multitude of counselors they are established."
It's important to seek advice when leading a group or making a decision, and so it helps to have a supportive leadership team.
2. A counselor isn't a babysitter; he's a team leader.
Although I prepared for months before camp, when the children first arrived, I still did not feel ready! I stood back for a bit. I watched how Andrew was able to get order out of chaos and how Jordan was able to effectively communicate with the kids. I was used to being "Dad" at home, and I was afraid of bringing that mentality to the dorm. The campers needed a counselor, not a dad. As I began to lead and focus on the daily agenda, the three of us began to work nicely together, and Andrew and Jordan would rally the kids to focus on what I was saying.
By the end of camp, we were able to get our campers prepared and focused on the camp director, David Myers, whenever he needed attention or order.
The more the kids realized we were a team, the more encouragement they offered the other boys when one was down. At one point during camp, I led a discussion on how we should be encouraging, not competing, with one another. I immediately saw a difference in my campers. I saw this when the boys played basketball. Several of them rallied around and encouraged one camper who struggled with the game.
Giving encouragement to others is something we all need to do. We read in the Bible of Barnabas, whose name means son of encouragement, and what he did for his brethren: "When he [Barnabas] came and had seen the grace of God, he was glad, and encouraged them all that with purpose of heart they should continue with the Lord. For he was a good man, full of the Holy Spirit and of faith; and a great many people were added to the Lord" (Acts 11:23-24).
Encouragement goes a long way! The campers' encouragement actually had the effect of encouraging me!
3. Take the time to teach.
I didn't sleep well at camp. I used my sleeplessness to get up early and use that time for prayer and study. This time spent with God gave me the opportunity to think of lessons to bring up to the campers that day.
At first I thought their short attention spans couldn't handle these 5- to 10-minute lessons twice a day in such a busy environment. But I soon found out how important they were. There were several moments where the kids reminded me of the lessons taught.
Moses wrote: "You shall teach them diligently to your children, and shall talk of them when you sit in your house, when you walk by the way, when you lie down and when you rise up" (Deuteronomy 6:7).
If you are considering volunteering to serve on the camp staff, be prepared to learn many lessons and grow spiritually. I expect the lessons of my first-time experience as a camp counselor will help me as a parent and in my next opportunity to serve at camp. I encourage all teens and adults to take this opportunity at least once in their lifetime.
Read the previous blog post: "3 Things I Learned as a Camp Counselor."