The Feast of Trumpets: A Call to Steadfastness
Posted by Tammy Valley on September 29, 2016
The Feast of Trumpets is a time that symbolizes the victorious return of Christ and the resurrection of the saints. That truth should inspire us to endure!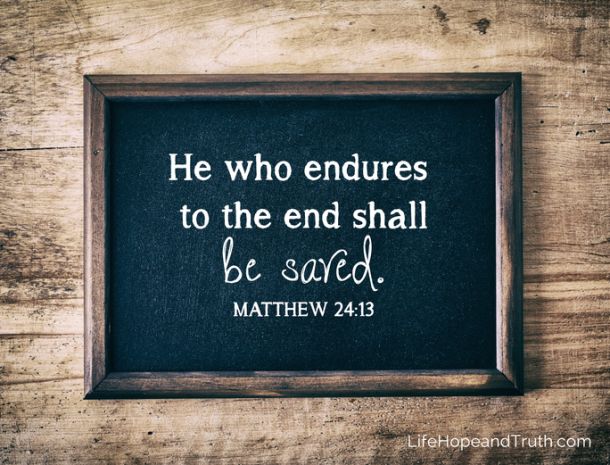 Picture the scene: After years of desperation, hunger, war and death, a great noise erupts in the heavens. Every living person witnesses the spectacle, many with confusion and fear. But a few know exactly what has occurred, and it is the most joyous moment in their lives. For this small group of people, everything they have been working for, every pain they have suffered, every trial, every situation of persecution—all of it has come to completion.
Hold this moment in your mind and ask yourself—are you one of them? Do you think that you can make it?
In God's plan, we currently inhabit the time between the beginning of the Church on Pentecost and the fulfillment of the future events pictured by the Feast of Trumpets. During this time there is one word we should deeply consider as we think about the return of Christ.
We must endure
Think back to the questions you just asked yourself a few moments ago. Do you think you will be one of those transformed at Christ's return? Jesus Christ said that "he who endures to the end shall be saved" (Matthew 24:13, emphasis added). But what does that really mean?
The word endure in Matthew 24:13 is translated from the Greek verb hupomeno and is related to the noun hupomone, which is often translated "patience." Hupomone is defined as steadfastness, constancy, perseverance, endurance and "the characteristic of a man who is not swerved from his deliberate purpose and his loyalty to faith … by even the greatest trials and sufferings."
This may seem like a tall order. Knowing that the world will make it more and more difficult to stay faithful in the future can make the idea of persevering seem even more daunting.
Thankfully, we don't have to persevere on our own strength. Yes, we must do our part to hold to God's truth and righteousness, but God also promises to help and support us: "May the God of all grace, who called us to His eternal glory by Christ Jesus, after you have suffered a while, perfect, establish, strengthen, and settle you" (1 Peter 5:10).
This Feast of Trumpets, let's remember that we must never ever give up. But also remember that we must rely on the mercy and help of our Heavenly Father. To truly persevere, we must hold to the hope and vision that the Feast of Trumpets offers. "Blessed is the man who remains steadfast under trial, for when he has stood the test he will receive the crown of life, which God has promised to those who love him" (James 1:12, English Standard Version).
For more insight into endurance, read "Our Ironman Race."