How to Introduce a Preschooler to God
Posted by Deirdra Willis on June 6, 2017
If you have the wonderful opportunity to guide a precious preschooler's heart and mind to love God, what is the best way to do it?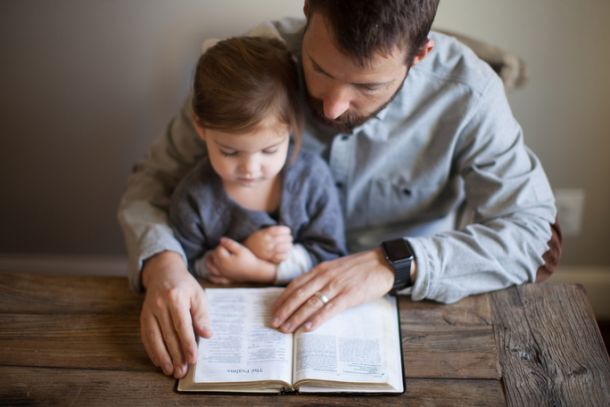 Proverbs 22:6 teaches us to "train up a child in the way he should go, and when he is old he will not depart from it."
How do we "train up" our children when they are preschoolers? Where and how do we begin?
As parents, we aspire to influence both the hearts and minds of our children to esteem God. Our first step is to introduce them to the reality that God is our Father and Christ is our older Brother. They both love our children. John wrote in 1 John 4:19, "We love Him because He first loved us." Simple, right?
Just teaching this fundamental fact to our children is a vital beginning place, but our journey doesn't end there. We have another very important concept to reinforce to our preschoolers. We must instill in them the need to acknowledge God's authority, to honor and respect Him even though we cannot see Him. Psalm 111:10 tells us, "The fear of the LORD is the beginning of wisdom."
We should teach young ones simple truths about God, such as:
God is powerful, and He can do all things.
God gives us rules or laws, and we must always obey.
God always keeps His promises.
God disciplines us because He loves us.
God sees everything we do (even if Mom and Dad do not).
God loves us so much, He allowed His Son Jesus Christ to die so that we might live.
Awe, wonder and a respectful fear of God lay the groundwork for teaching basic principles at an early age.
Talking and praying
But why stop there! We can also put into practice the instructions given in Deuteronomy 6:6-7, because basic Christian education begins at home with the parents. We are responsible for keeping the 10 Commandments and teaching them to our children even at a young age.
Teach your preschooler about God diligently.
Talk about God daily in the home or while running errands, showing your children all the marvelous things God has created.
Use bedtime to pray with your little ones, and in the morning lead them in thanking God for another day.
Explain to your preschoolers that something as simple as "waking up" in the morning is a blessing. Teach them to "count their blessings" when they pray. Instruct them how to thank God for Mommy, Daddy and friends. Being grateful for things like toys, family pets, good health and so on demonstrates the beginning of godly characteristics. As Christian parents, we understand God's laws are there to protect, lead and guide us. They reinforce love and trust in God.
Bible stories
Young children love story time, and it's a good opportunity to teach lessons from the Bible. The story of the Good Samaritan (Luke 10:25-37) is an example of an incredible way to teach preschoolers that Jesus wants us to be compassionate and kind to those in need. This also can be reinforced in different ways at other times, such as when they need to be kind to a sibling, share with friends, help someone, take turns, give a hug, etc.
The incredible lessons and stories of the Bible model the teachings and magnificence of Christ. The Bible is filled with true stories that have lessons attached to them. Many of them can be understood on an introductory level even by very young children.
More ideas
Additional ways to teach young children are through singing songs that express biblical truths; watching good, age-appropriate biblical movies; and just observing the regular routine of how parents spend quality time getting to know God. All these factors play an important role and influence your child's relationship with God at an early age.
Letting your young ones sit with you while you do Bible study can inspire your children to develop good habits as they grow older. Young children are like little sponges, so the examples set by parents are very important. God's way of life should be a daily routine in the home, not just a "once a week at church" experience.
God's Word purposefully contains personal applications that serve as stepping-stones to laying the foundation for a personal relationship with God. At all times we should be modeling the characteristics of God, setting an example and relying on God for spiritual wisdom when it comes to raising our children. God is seeking "godly offspring" (Malachi 2:15) for His family.
As parents, we have an incredible opportunity to educate our children about God and watch as their personal relationships with Him flourish.
For additional ideas, read more in the "Parenting" section of the Life, Hope & Truth website and visit our dynamic parenting resource "Encourage, Equip & Inspire."