Do You Have a Bucket List?
Posted by Judy Swanson on April 12, 2018
A bucket list can help us feel like we are accomplishing something important in our lives. But could it be that the items on our list that we can't check off are the most important?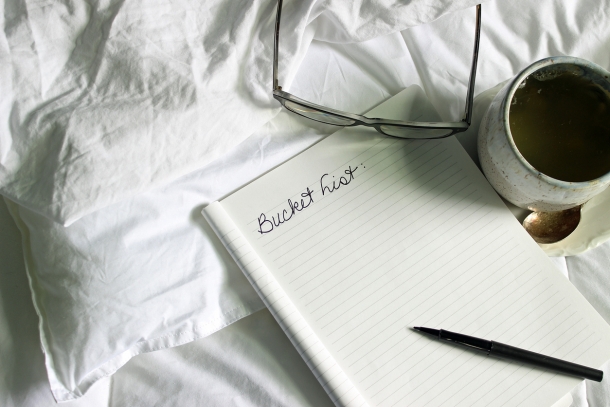 Do you have a bucket list? Basically, a bucket list is a list of goals we hope to accomplish before we die (or "kick the bucket").
During the Winter Family Weekend this year, my daughter, Jeannie Evans, and Carolyn Winner presented a seminar to the ladies titled "A Bucket List Makes a Better Woman." They covered goals and why they are important.
Three important goals they listed concerned our home, the Church and our community. They shared stories of older women who had dared to dream big and accomplish their goals, such as tandem skydiving, zip-lining, climbing Mount Everest, sailing around the world and hiking through the Appalachians. These women ranged in age from 70 to 100!
My bucket list
This was very inspiring to those of us who have a bucket list of goals that we want to accomplish. So far, I have accomplished some of what is on my bucket list. I had a goal of creating a photo/biography book for each of my children filled with memories of them during their childhood up until they were married. I titled them "Through a Mother's Eyes."
Fulfilling a goal on a bucket list can be challenging!
It wasn't an easy task! Since my kids didn't grow up in the digital age, each photo had to be scanned and then arranged on pages with typed recollections of the places and events that I could remember! I will spare you the tears that were shed when I was almost finished with my last book and the company sold out to another company and all of my work was lost, forcing me to start over again! But I did eventually finish all of them.
Needless to say, I still have a list of other goals I am trying to accomplish, but the most important goals are ones I will never check off in this lifetime! Does that sound strange? Let me explain.
My bottomless spiritual bucket list
Every Christian's bucket list should include the fruit of the Spirit found in Galatians 5:22-24: "But the fruit of the Spirit is love, joy, peace, longsuffering, kindness, goodness, faithfulness, gentleness, self-control. Against such there is no law. And those who are Christ's have crucified the flesh with its passions and desires."
We can never have too much of the fruit of God's Spirit. God will never say to me, "Stop, Judy! You have too much love, too much joy, too much peace, too much longsuffering, too much kindness, too much goodness, too much faith, too much gentleness and too much self-control!" No, God wants us to continually grow in this fruit throughout our lifetime.
The goal of developing this fruit takes constant work. It has to be applied and worked on constantly—especially when things come up that demand these character traits. If you're like me, every day shows how we need to grow in one (or more) of these traits.
So, unlike physical things that may be on our bucket list, the pursuit of these nine character traits must be on that list and can never be checked off!
To learn more, read about "The Fruit of the Spirit."