Don't Let Challenges Stop You From Traveling Internationally for the Feast!
Posted by Chant'a Collier on July 3, 2019
Do you want to travel abroad for the Feast, but worry about a physical limitation? Planning ahead can make it possible, and it's extremely rewarding!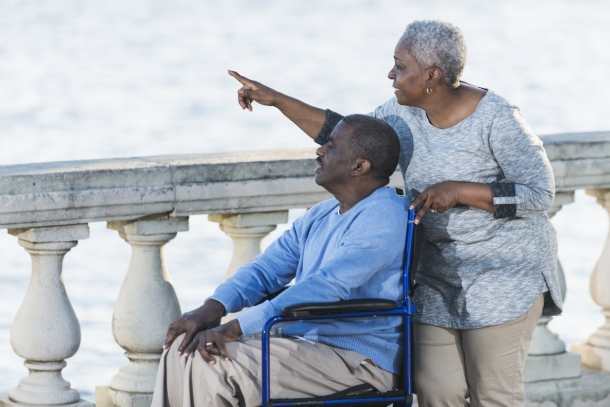 Visiting Paris has been a dream of mine since I was a child. I have always had a fascination with France. As I was making plans for the Feast of Tabernacles a few years ago, to my surprise, I discovered I could afford to attend there. There was only one problem: My husband has a physical challenge that would make it difficult.
Rodney has a condition termed "foot drop syndrome," making him unsteady. Having this condition in both feet makes walking difficult for him. However, with the use of a cane he can maneuver around. When he heard that there was a way for me to fulfill my dream to visit France, he willingly signed on for the adventures that were to come.
The purpose of this blog post is to encourage those of you who have a physical limitation to not let it prevent you from traveling internationally for the Feast. With the help of Rodney and friends who share different limitations, I have gathered some tips to assist you if you decide to venture to another country.
Tip 1: Carefully consider the destination
Start by closely reading the Feast site description. It will give you an idea of what the location is like. You can also go online and take a Google virtual tour of the area. A virtual tour allows you to see if there are cobblestone streets, rolling hills or flat sidewalks.
For our trip to Paris, Rodney and I took a virtual walk down the street to get an idea of the area. While online, we found a cute little restaurant that we wanted to visit. Once we arrived in Paris, we took the same route to the little restaurant and made a connection with the owner. On our second trip to Paris, we found it was like going back to visit a family member.
Tip 2: Pace yourself and travel light
Depending on how far your destination is from home, you may want to consider going a day or so earlier to allow your body time to adjust to the time change. Our flight to Paris was eight hours, and we were advised to take the red-eye and adjust our watches to Paris time.
Arriving early allowed us to get a feel for the environment and adjust to the new time schedule. But if you will arrive a few days before the Feast or take a side trip, look for hotels that will meet your needs and have elevators ("lifts") or a manageable number of stairs, wheelchair accessibility, rooms with suitable bath or shower facilities, etc.
An important part of pacing yourself is traveling light. If at all possible, limit your luggage. Having just a backpack and suitcase each allowed Rodney and me to move swiftly through the streets.
For tours, you may want to consider hop-on/hop-off bus tours. These can give you the opportunity to see and learn about the history of cities, while giving you the option of getting off and taking a closer look at specific sites.
There were times when I wanted to go a little farther, and we decided that Rodney would wait on a bench for me. Of course, we chose a bench that was near a shop, restaurant or something interesting that he could visit while I was gone. When we did this, I always discovered he was not alone when I returned. There was always someone keeping him company!
In San Miguel de Allende, Mexico, during an activity that involved walking around the city, Rodney stayed behind on a bench with several mature ladies in the Church. They spoke no English, but welcomed and took very good care of him while I was gone!
Tip 3: Look for available help
Independence is great, but don't allow yourself to miss out on the benefits of traveling because of a limitation or challenge. There are many helps you can take advantage of to make your trip easier.
Here are examples of the help that we took advantage of:
Airlines offer special assistance services that can help you through security checkpoints and immigration.
While visiting the Louvre Museum in Paris, the security guards noticed that Rodney was using a cane. They moved us up to the front of a line that stretched out into the streets.
While in London, we were told by the hotel manager that, although we used a travel website to book our room, we could still call and explain Rodney's needs so accommodations could be made in advance of our stay.
Excursions are common in many sites outside of the U.S., and they may offer assistance such as shortcuts or trolleys. While visiting Monet's garden during the Feast in Normandy, we discovered that the length of the garden tour would be difficult for Rodney. The guide graciously took us to the shortcut path that led to the next phase where our group would meet us. In the city of Rouen, we found a trolley that took us around the entire city.
Tip 4: Enjoy the brethren
While side trips, excursions and meals are amazing, it is the brethren (who may not meet together on a regular basis) that really make international travel worth it. The Feast of Tabernacles is a time when they can be with those of like mind—even if there are language barriers. You will find brethren filled with warmth and love. They want to enjoy your company and share their beautiful country and culture with you.
In San Miguel de Allende, we were asked to call a beautiful senior lady "mama." In Europe we were embraced by a family from Martinique who shared special elixirs and food that they brought to the Feast site.
The Feast of Tabernacles is a melting pot of God's love shared by the many cultures of His people. Traveling abroad has enlarged our family with members from Barbados to the Philippines, and we have been blessed to get to know so many people who, like us, are seeking first God's Kingdom.
With a little extra planning and preparation, people with physical limitations may be able to travel to foreign Feast sites and have the wonderful experience of fellowshipping with brethren from different cultures and exploring their countries.
For more reading on attending the Feast in a foreign country, read our blog post "Working Through Language Barriers at the Feast."