What Am I Supposed to Learn From This?
Posted by Judy Swanson on November 28, 2011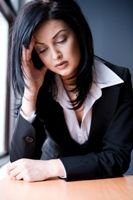 It is tough to face trials, so it's important to learn and grow by dealing with them.
What am I supposed to learn? How many times have you asked this question while in the midst of a severe trial? We all know that trials are a part of life, and they are supposed to help us learn lessons that are crucial to our growth as Christians.
Sometimes a trial happens to us because of choices someone else makes, and sometimes it is because of the choices we ourselves make. God may not be trying to teach us something specific in every trial; He may just want us to remain firm and strong in the face of adversity. Our character and faith are automatically tested and hopefully strengthened!
Temptations and trials
Our patience and perseverance are always tested during our trials. What are some of those temptations and trials?
Someone who is having a difficult time finding a job may be tempted to take a job that is offering him or her a good salary and benefits—and all he or she has to do is compromise by working a few hours on God's day of rest, the Sabbath!
A woman whose husband is too busy to give her the love and attention she craves may be tempted to be unfaithful to him when a coworker, neighbor or friend comes on to her.
A woman whose husband is a nonbeliever may be tempted to let him influence her to let down in her prayer and Bible study. It is also a challenge to stay strong if he is hostile or ridicules her. She may feel all alone and that it is too much of an effort to obey God, especially if children are involved, as they may be torn in different directions and life can be confusing and stressful to them.
It seems everywhere you look, people are going through trials of sickness, disease, death and accidents. Many have to live with a disability or chronic illness and may consider their lives a constant trial. It is easy for them to feel like God has forsaken or forgotten them. It is a challenge to always stay in a thankful attitude during these difficult trials.
Trials can wear on us, physically and spiritually. It can be a challenge to stay close to God, continuing in His way, never forgetting the hope of the future.
What God wants us to remember
One vital thing God wants us to remember is that He is always there for us in the middle of all of our trials. He says He will never leave or forsake us. "Not at all will I leave you, not at all will I forsake you, never!" (Hebrews 13:5, Modern King James Version).
So part of the answer to the question, "What am I supposed to learn from this?" hopefully becomes, "I can do all things through Christ who strengthens me" (Philippians 4:13).
The reward that God will give to all overcomers, and especially to those who through severe trials remain faithful, will be awesome! Nothing can separate us from His love and His help (Romans 8:37-39)!
No matter what trials we are going through, God is always there—that is part of what He wants us to learn! Never give up on Him, because He will never give up on us!

Judy Swanson and her husband, Bill, a retired pastor, reside in East Bernstadt, Kentucky, and help serve the Church of God, a Worldwide Association, congregations in London, Kentucky, and Knoxville and Johnson City, Tennessee.
For more about trials and overcoming, see: