Watch Your Step!
Posted by Aaron Hilgen on November 30, 2017
God wants us to stay on His path. Satan tries to lure us off that path. Do you have what it takes to stay on it?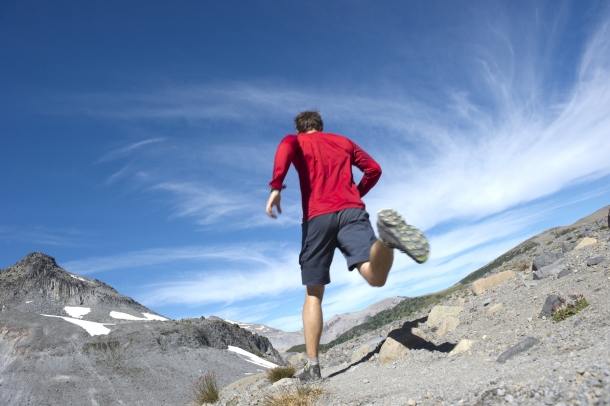 Imagine jogging up a rugged trail. The path is narrow, winding and uneven. Tree roots breach the surface of the earth, and fallen limbs block your progress. Loose stones scatter underfoot and large boulders encroach so closely you must turn sideways between them. The trail steepens, forcing you to slow your pace. Your confidence soars as you navigate up and down the beautiful trail.
That's when you misjudge one step and trip on a tree root protruding slightly more than you calculated. Down you go!
Thankfully, God is merciful, and the ground in front of you is flat and free of debris. You stand up gingerly, checking for wounds, but you only find a small abrasion on your knee. "Thank You, Father, for Your protection!" you exclaim as you dust off your clothing and begin your jog with renewed focus.
Does this scenario sound familiar? It should because it parallels our lives as Christians. Christ tells us in Matthew 7:14 that "narrow is the gate and difficult is the way which leads to life, and there are few who find it."
I was reminded of this passage as I ran through Giant City State Park in Illinois shortly before the Feast of Tabernacles. I was about a mile in when I fell. I was far more focused on my footing from that point on!
A closer look at Matthew 7:14
Let's dissect this verse a little bit in relation to the experience I shared with you.
"Narrow is the gate and difficult is the way which leads to life." When we try to live God's way, we will encounter many obstacles. These obstacles could take the form of our employer wanting us to work on the Sabbath or having a fit about our leaving for the Feast. Schoolmates might harass us for not participating in Christmas or Halloween parties. Family members might shun us. But God is merciful! He doesn't leave us alone to fend for ourselves. More on that in a moment.
"And there are few who find it." I was given precise directions on how to navigate the trail. My Garmin tried to guide me, and fellow adventure seekers pointed me this way and that, but still, with all that knowledge, it took me almost an hour to find the elusive trail.
Many people read the Bible. Many profess to be Christians, yet very few actually understand the information God gives us in His Word.
Two paths
God warns us that the path is narrow and the way difficult. So what is it exactly that makes the path so treacherous? Satan. He is our biggest obstacle.
The previous verse explains that he has his own path he wants us to walk on (Matthew 7:13). A broad, straight, slightly downhill path that is easy to navigate and obstacle-free. One of the ways Satan tries to get us onto his path is by obstructing God's path, making it harder and harder to follow it, until one day we give up and switch paths. Satan puts many tree roots in front of us to trip us up and discourage us. The Bible describes him as a lion seeking to "devour" us (1 Peter 5:8).
If the great deceiver is constantly striving to destroy us, how can we stay on the path? How can we defeat such a foe?
God does not leave us empty-handed
God lovingly gives His Holy Spirit to us as a helper. John 14:16, 26 says: "And I will pray the Father, and He will give you another Helper, that [it] may abide with you forever. … But the Helper, the Holy Spirit, [which] the Father will send in My name, [it] will teach you all things, and bring to your remembrance all things that I said to you."
Our God gives us power and love through His Spirit (2 Timothy 1:7) so that we can resist Satan's temptations and move forward toward eternal life. With this Spirit, we can "put on the whole armor of God, that you may be able to stand against the wiles of the devil. For we do not wrestle against flesh and blood, but against principalities, against powers, against the rulers of the darkness of this age, against spiritual hosts of wickedness in the heavenly places. Therefore take up the whole armor of God, that you may be able to withstand in the evil day, and having done all, to stand" (Ephesians 6:11-13).
When I finished the 2-mile loop, I was determined to run it again, this time armed with the knowledge of the obstacles I'd face. My approach was vastly different the second time around. I knew where certain obstacles were and traversed them more easily. I slowed down on the steep inclines, conserving my strength. The whole time I ran I was on the lookout for the large root I tripped on, but never found it.
Stay vigilant
Even when we know exactly how Satan will try to trip us up, we don't always see it. He is that deceptive! But God doesn't send us through rough terrain crawling with enemy traps without help. Psalm 119:105 encourages us this way: "Your word is a lamp to my feet and a light to my path." God gives us a tool to navigate the path successfully—His Word, the Bible. It illuminates the obstacles along the way and helps us avoid them.
We looked at part of 1 Peter 5:8, but now let's look at the full verse. "Be sober, be vigilant; because your adversary the devil walks about like a roaring lion, seeking whom he may devour." God knows the path before us is difficult, but He gives us all that we need to navigate it.
Stay on the path!
For another perspective on the narrow path, read "Wilderness Hiking: The Importance of the Narrow Path."