World Peace Suspended!
Posted by Cliff Demarest on April 30, 2012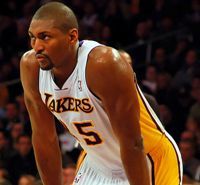 Los Angeles Laker Metta World Peace reminds us of the pitfalls of a lack of self-control. It's an important character trait that all Christian men must build.
After NBA Commissioner David Stern reviewed the tape of Los Angeles basketball star Metta World Peace celebrating an impressive dunk by dropping Oklahoma City's James Harden to the floor with an "accidental" vicious elbow, he promptly suspended the forward for seven games. For World Peace, it's not the first time.
The player formerly known as Ron Artest has a long history of NBA suspensions. Basketball fans will recall that he already has the dubious record of the longest suspension in NBA history: an 86-game penalty in 2004 for precipitating a brawl in Detroit's Palace of Auburn Hills by jumping into the stands to fight with fans. In 2007 he drew a seven-game suspension for a domestic violence charge. It was supposed to be different in L.A.
A change we can't believe in
Seeking to rehabilitate his record and his image, he had recently joined the Los Angeles Lakers with the promise to act better. He won the NBA's top citizenship award last spring for his charity work in mental-health awareness. He also legally changed his name in interest of supposedly promoting peace around the world.
But World Peace's actions on the court have been anything but peaceful; and his most recent lack of self-control will have negative repercussions for himself, his family, his sport and his team. It's a good lesson for us men.
A world of hurt
The former Ron Artest will lose $348,000 of salary during his suspension. He has brought worldwide condemnation on himself and embarrassed his family as well. His actions have also cast the NBA in a negative light. Finally, he will also harm his team by missing those seven games.
On ESPN.com, his teammate, superstar Kobe Bryant, said, "It's hard to get into a guy's head. … It's an unfortunate situation." Lakers general manager Mitch Kupchak said, "His most recent lapse of judgment is not to be condoned or accepted. … His actions could have seriously injured another player, and his absence during this suspension will hurt our team as well."
Sports test self-control
Watching the now infamous video footage shows World Peace executing an exceptional dunk against the Oklahoma City Thunder. His chest-pumping celebration is unfortunately followed by a crushing blow to James Harden's head. Why the lack of self-control?
Competitive sports certainly have the opportunity to inflame the emotions within us. If you play sports now, or think back to college or high school, you know. We're giving our all, we are striving to score, and others are competing against us. The competition gets the blood and emotions going. It tests our character and is a good measure of our self-control in general.
As men, husbands and fathers, we need to build and demonstrate self-control, not just in sports, but in all aspects of our lives. Just like World Peace, our actions and mind-set affect and influence our friends, family, coworkers, church and community; and we need to set a good example for all of them.
Sage advice about self-control
Proverbs 25:28 tells us that "a man without self-control is like a city broken into and left without walls" (English Standard Version). This verse paints a picture of a lack of boundaries, parameters and control, thereby allowing any spontaneous emotion to move freely about. The city and, by analogy, we ourselves are left unprotected. It's anything goes—like flying elbows.
Rather than this lack of control, we are instructed, "He who is slow to anger is better than the mighty, and he who rules his spirit than he who takes a city" (Proverbs 16:32).
Steps toward self-control
To further build our self-control, consider the following:
Pray that God will help you build all the fruit of His Spirit, including self-control (Galatians 5:22-23).
Identify your emotions that lack self-control, like anger or resentment, and actively work to decrease their influence by writing down a plan to reduce their sway. Visualize yourself acting in a controlled manner and put your plan into practice.
Intentionally practice a few instances of self-denial and delayed gratification so you can grow in self-control around something small you might want. This practice will lead to a sense of accomplishment as you master that area of control, and it will encourage you to tackle the bigger issues you identified.
Till Kingdom come
So in the aftermath of the World Peace story, some have suggested tongue in cheek that he consider changing his name again, this time to Military Industrial Complex. This idea was reportedly inspired by the belief that world peace wouldn't occur in this world, and this new name would be more emblematic of present reality.
This may be right—until Jesus Christ returns. But if the impact of self-control on family, friends and community isn't convincing enough, consider this scripture: "The end of all things is at hand; therefore be self-controlled and sober-minded for the sake of your prayers" (1 Peter 4:7, ESV).
Jesus Christ is returning soon, and we will each be held accountable for our actions as well as the character we have built. Let's therefore build sterling self-control.
Cliff Demarest is a member of the Church of God, a Worldwide Association, in Dallas, Texas.
For more about self-control and world peace, see: