Building Update - March 16, 2018
Once again, I am sorry to report that there isn't much to report this week on the building! We are having to work around the city of McKinney's schedule. For some items they only meet every two weeks, which means we have to wait on them. This week the city approved all our permits (once again), and the only item left is a preconstruction meeting with our builder—Highland. That meeting is scheduled for Friday afternoon, March 16. Assuming this meeting goes well, permits will be issued and work can begin. Up until now, all we have been allowed to do is a small amount of dirt work, installing the erosion material, staking off the construction site, setting up the construction trailer, installing a gravel parking area for workers, and establishing an entry point from the main street (Medical Center Drive). We have been waiting for four weeks for the city to allow us to begin the actual construction. This long delay should end today (Friday) or Monday.
We did install a 20-foot pole on the property this week, from which we plan to mount a video camera to record the daily building progress. When the project is complete we should have an excellent video so we can show in time lapse how the building was constructed from an empty lot to a completed office. Since this is such a historic occasion, and so many are unable to visit the site, we believe it will be a popular video for all to see—hopefully sometime after the Feast of Tabernacles this year.
There is one more item I wanted to share with all of you. From the beginning of this project (and included in our contracts), we have insisted that no work be done on the Sabbath or any of the holy days. At our last meeting with the builder, we were happy to see a poster in the construction trailer that stated this in large lettering for all to see. Here is the poster: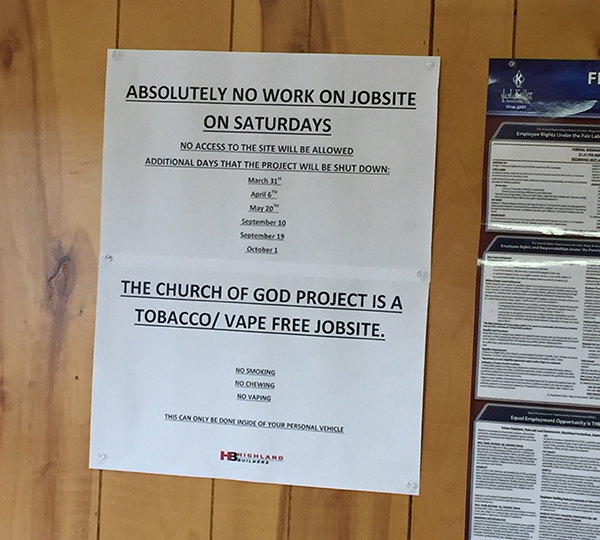 Jim Franks