Getting the Most Out of Your Camera—and Your Bible!
Posted by Andrew Travers on May 1, 2018
Getting a new camera, or any other gadget, can be exciting. I found that learning how to use my camera was similar to learning how to gain the most from the Bible.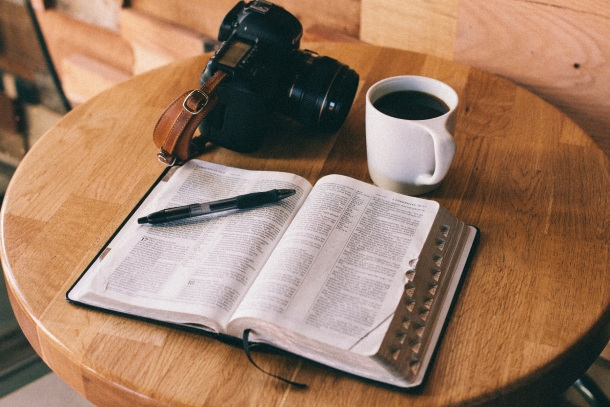 Several years ago, I bought a Canon EOS Rebel T5 DSLR camera with manual controls (in other words, the big, fancy camera I had really wanted). Since then, I have seen people use the same type of camera with varying degrees of success. Those who have experience take clear, beautiful pictures, while those with less experience don't often take pictures of the same quality.
This is similar to how people are with applying the Bible to their lives. Some people know the Bible very well and are able to apply it, while others are just starting to learn about it. Learning how to use the Bible, or a camera, involves three steps: studying it, discussing it and using it. Let's explore each of these steps.
Studying it
When we get something new, we usually start by getting it out of the package and looking it over. With a camera, I'll see how far the zoom reaches, examine all the different settings and read through the manual. We learn about something by examining it up and down!
Likewise, the best way to learn the Bible is by getting it out and studying it! The Bible, and the stories contained in it, was written to teach us spiritual lessons and truths. Paul told the Corinthians, "Now all these things happened to them [ancient Israel] as examples, and they were written for our admonition" (1 Corinthians 10:11).
Paul revealed to Timothy that "all Scripture is given by inspiration of God, and is profitable for doctrine, for reproof, for correction, for instruction in righteousness" (2 Timothy 3:16). We should use the whole Bible to learn how God wants us to live.
Discussing with others
Cameras come with many different features, but I've found that some features aren't always explained clearly in the user manual. There are features I have been afraid to try because I don't know what will happen. Other features I have not tried because I have yet to see a need to try them. However, I have learned about some of these features by talking with other people about their experience with them.
We can learn about the Bible in a similar way. Leviticus 23 tells us the Sabbath and festivals are holy convocations (verse 3), meaning we are to get together with God's people on those days.
Why?
In the book of Hebrews we are reminded to "consider one another in order to stir up love and good works, not forsaking the assembling of ourselves together, as is the manner of some, but exhorting one another, and so much the more as you see the Day approaching" (Hebrews 10:24-25). One reason we congregate is to strengthen and encourage each other.
We can use the time before and after Sabbath services to share what we have learned about the Bible and find out what others have learned. As younger people, we can talk to some of the older members to benefit from the valuable insights they've gained from their years of reading and studying God's Word.
Using it
It is not enough to just learn about a camera. After we have studied it, we have to actually use it! Practice also helps us learn how it works. Some things can be learned only by applying them.
The Bible is similar. It is not enough to just learn what it says, we have to use and apply it in our lives in order to really understand it.
The psalmist described God's Word as "a lamp to my feet and a light to my path" (Psalm 119:105). An interesting thing about lamps is that they don't work if you leave them behind. In order for a lamp to light your path, you have to take it with you and use it.
James addressed this: "What does it profit, my brethren, if someone says he has faith but does not have works? Can faith save him? If a brother or sister is naked and destitute of daily food, and one of you says to them, 'Depart in peace, be warmed and filled,' but you do not give them the things which are needed for the body, what does it profit? Thus also faith by itself, if it does not have works, is dead" (James 2:14-17).
We can only profit from studying the Bible if we try to practice and apply it to our lives.
God has given us His Word to guide our lives and give us a vision of the future. We need to study it, talk about it and use it to fully benefit from it.
For more keys to studying the Bible, read "How to Study the Bible."